Service – Delivery
With our own fleet of trucks and drivers we provide quick, safe, and efficient service for our customer's needs. All our locations are dedicated to this same service.  Our drivers arrive to all job sites with the appropriate safety gear to deliver product where it is most convenient to the job. We exceed the expected to make sure our customers succeed.
---
---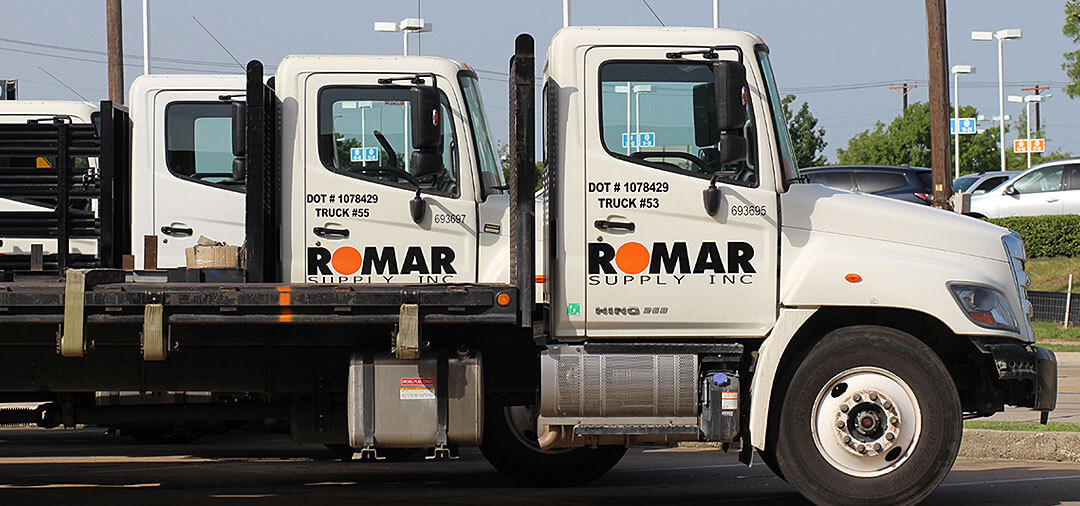 Romar exceeds all expectations when it comes to delivering orders when promised with accuracy and efficiency. Romar is small enough to respond quickly and promptly to every need, but large enough to complete any job. We make sure any changes to projects go smoothly, so you are able to complete your job.

Our decision making executives are always available and make it a priority to put the customer first, no matter what. From our friendly receptionists and sales team to our hard working accounting department, Will-Call desk and truck drivers, we have what it takes to be the best in the business.
Why Choose Romar
• Our People & Service – Our seasoned leadership team and knowledgeable sales team working with a sense of urgency are here to exceed your expectations by taking the initiative and are committed to your project's success. Service, to us, means fast turnaround and accuracy on quotes, submittals and orders.
• Vast Inventory – Our 116,000 sf facility on 5 acres in central DFW and well-stocked San Antonio/Austin branch means if you need it fast, we probably stock it or can obtain it quickly through our vast network of manufacturers.
• Fabrication Capabilities – Our in-house steel fabrication shop can provide you with unheard of turnaround in our market for pipe welding, grooving, cutting, and threading, as well as fabricating steel structures to your specifications.
• Price Competitiveness – Our longevity, high volume, long standing manufacturer relationships and buying group participation means we save you money on materials.
• Prompt Deliveries – DFW, Austin, San Antonio and Houston Metro locations as well as surrounding states are part of our routine deliveries by our drivers.
• Always Open – Open 6 days a week, with emergency help 24/7.