We Treat You Like One of the Family
Romar Supply, Inc. values family, quality, and service. When choosing Romar you not only get personalized customer service, but also are treated like one of our own. Family-owned Romar is the fastest-growing, most hardworking wholesalers of PVF (pipe, valves, and fittings) and fabricated steel products. Since expanding to two state-wide locations and soon a third, Romar is able to supply any needs efficiently and swiftly.
With over 30 years of experience as a certified Woman-Owned Business Enterprise (WBE), we have attained the knowledge and commitment to succeed and surpass any expectations.
---
---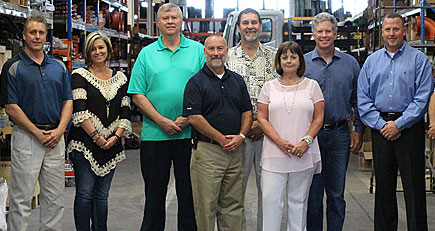 Mission Statement
Romar works toward becoming the best full-service, high-quality supply house and fabricator that caters to the needs of contractors, manufacturers and other current and prospective customers nationwide. We pledge to treat every individual, company, and supplier as if they were a part of our family. Romar provides services for all of your PVF (pipe, valve, and fitting) and fabrication needs. Romar seeks to expand into other markets where our world-class expertise, and outstanding service gives us a distinct advantage.
Why Choose Romar
• Our People & Service – Our seasoned leadership team and knowledgeable sales team working with a sense of urgency are here to exceed your expectations by taking the initiative and are committed to your project's success. Service, to us, means fast turnaround and accuracy on quotes, submittals and orders.
• Vast Inventory – Our 116,000 sf facility on 5 acres in central DFW and well-stocked San Antonio/Austin branch means if you need it fast, we probably stock it or can obtain it quickly through our vast network of manufacturers.
• Fabrication Capabilities – Our in-house steel fabrication shop can provide you with unheard of turnaround in our market for pipe welding, grooving, cutting, and threading, as well as fabricating steel structures to your specifications.
• Price Competitiveness – Our longevity, high volume, long standing manufacturer relationships and buying group participation means we save you money on materials.
• Prompt Deliveries – DFW, Austin, San Antonio and Houston Metro locations as well as surrounding states are part of our routine deliveries by our drivers.
• Always Open – Open 6 days a week, with emergency help 24/7.